Integrative Eye & Wellness Center at North Shore Eye Center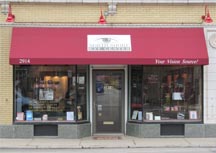 North Shore Eye Center has proudly served the community and beyond for over 60 years and focuses on premier comprehensive eye care. The eye is the window to your health. Research shows a correlation between healthy eating as a catalyst to healthy eyes. Our Integrative Eye and Wellness Center can provide wellness, nutritional support, and manage inflammatory and systemic conditions to help you stay healthy and see well!
Our optometrists have received additional education in health and nutritional counseling and also collaborate with other integrative health care professionals to provide the most comprehensive and innovative eye wellness patient care. Our Integrative Eye and Wellness Center compliments our state of the art conventional vision treatment of urgent eye care conditions, diseases, prescription eyewear and contact lenses.
Read MORE »